SharpStar 61EDPH Mk II ED Triplet Apochromatic Refractor Telescope with f/4.5 0.8x Reducer/Flattener
SharpStar 61EDPH Mark II ED Triplet Apochromatic Refractor Telescope with f/4.5 (0.8x) Reducer/Flattener
The ultimate portable astro photo and nature photography instrument!
Currently the reducer is out of stock and will be back in stock only at the end of July or beginning of August 2021 only.
You are welcome to order this if you want to save because of the package price, but at the moment we will send you only the 61EDPH without the reducer. We can do this without additional shipping charge only for UK customers. We can separate the shipment for international customers as well, but please note that there will be a surcharge of appr. £15-£20 depending on the destination country.
Please note, as of 13 Jun 2021 we have only one of these in stock, once it's gone, we will most likely still have a good stock of the 61EDPH units in stock, but the reducers are expected to be back in the beginning of August. If you want the 61EDPH delivered now and the reducer to be sent separately when available, please pre-order it and add a note that you want the scope now and the reducer when available. Thanks.
SharpStar 61EDPH Mk II telescope features:
• 61MM f/5.5 three-element full separation optical design
• Includes one ED lens of Japanese Super ED lens
• New 2.5" dual-speed rack and pinion focuser, 10:1 fine focus
• 2" and 1.25" universal interfaces
• Angle adjuster for 360 degree rotation
• Universal dovetail bar
• Comes with a finderscope mounting bracket (shoe)
Dedicated 2.3" f/4.5 reducer/field flattener is included in this bundle.
The SharpStar 61EDPH refracting telescope is a three-element fully separated design that includes one exotic ED lens and multi-layer coating on all surfaces to reduce internal reflections.
The SharpStar 61EDPH provides a very good observation and imaging system thanks to its fast focal ratio. The unique three-element design incorporates a special ED lens, which helps to control chromatic aberration very well, makes the stars look sharp, and the image more vivid.
The SharpStar 61EDPH provides an impressive focusing system combined with an excellent optical system. The SharpStar 61EDPH has a high load dual-speed 2.5-inch rack and pinion focuser with a 1:10 aspect ratio compared to many refractors on the market that use a toothless focuser (i.e. Crayford). Rack and pinion focusers can bear a higher load due to their construction, so you don't have to worry about wobbling or loosing focus when using heavy-duty observation accessories or a heavy camera. In addition, the 360-degree rotator allows you to easily rotate the camera to achieve the best image framing. The 2-inch eyepiece holder barrel features a brass compression ring, so that you won't scratch your accesories.
The dedicated unitary tube rings with hollow design and streamlined handles is not only fashionable, but also beautiful and you can attach some accessories as well (i.e. guidescope). The 61EDPH package also contains a 10cm long dovetail plate, it features a 1/4" photo thread in the center that allows the scope to be mounted on a tripod for daystar nature photography as well.
The SharpStar 61EDPH is a reasonably priced observational or imaging tool with fast-focus ratio that features exotic super ED glass, high quality heavy duty 2.5-inch rack and pinion focuser; when compared to other similar products on the market, its value is self-evident.
In addition, the 61EDPH can be equipped with our dedicated 2.3-inch field flattener for FULL FRAME astrophotography, which provides excellent image quality and avoids field edge star distortion.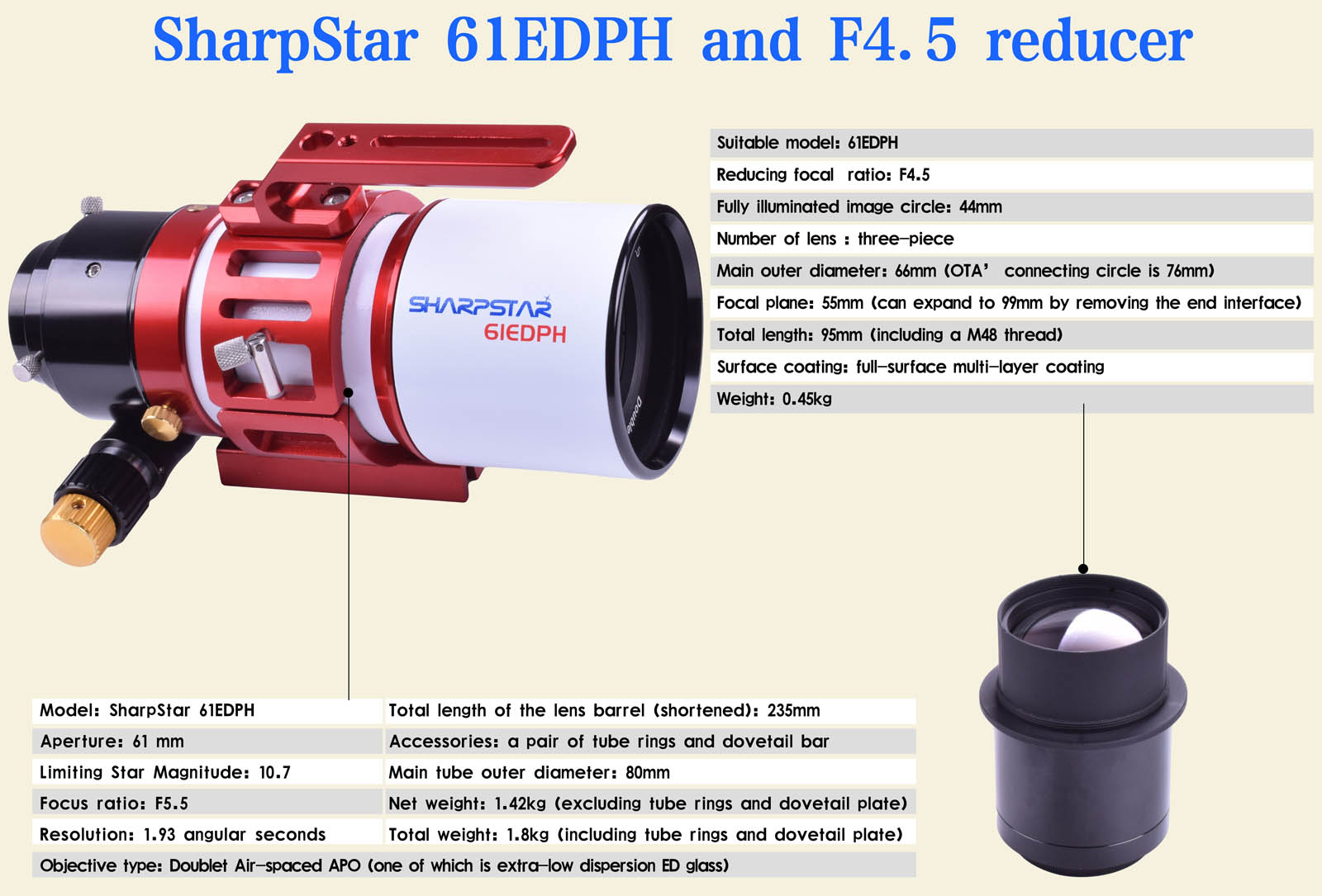 DEDICATED FULL-FRAME REDUCER (included with this product listing)
The following discussion will focus on the separately available dedicated full-frame reducer for the SharpStar 61EDPH, because it meets the requirements for full-frame photography. The optional reducer/field flattener is equipped with a 2.3" tube, one end of which adopts a M63×1 thread and connects to the rack-and-pinion focuser of refractor telescope. The other end adopts a M48×0.75 thread, the focal plane is 55mm from the end interface. If you need to expand, it can measure up to 99mm by removing the end interface and adapting your own accessories, which fully meets the requirements for attaching a wide range of photographic accessories, i.e. CCD or CMOS camera with OAG (off-axis guider), electronic or manual filter wheel, etc. The reducer features a three-element fully air separated structure, which helps to support full-frame photography and achieve excellent vignetting free images. The reducer is specifically designed for deep-space widefield astro photography with a focal length of 275mm and a focal ratio of f/4.5. In addition, the 360-degree rotator allows you to easily rotate the camera to achieve the best image framing.

Technical parameters:
Aperture: 61mm
Focal length: 335mm
Focal ratio: 5.5
Objective type: three-element full separation composite achromatic
Net weight: 1.42kg (excluding tube rings and dovetail plate)
Total weight: 1.80kg (including tube rings and dovetail plate)
Resolution: 1.93 angular seconds
Visual limit star rating: 10.7
Main tube outer diameter: 80mm
Total length of the lens barrel (shortened): 235mm
NOW COMPARE THE ABOVE WITH THE SPOT DIAGRAM OF THE PREVIOUS DOUBLET VERSION:
Telescopes
Aperture (mm)
60
Focal Length (mm)
330
Focal Ratio f/
5.5
General Information
Weight in Kg
1.4